Disclaimer:  This review contains links to products on Amazon which you are welcome to follow and may lead to commission.  You are not under any obligation to buy from this review.
Foreword.
I have always been an active participant from school to adult life, to military service, including jumping out of aircraft and all that it entails.  I have kept myself as physically fit as possible and have trained for half and full marathons.  I have pushed myself to my own limits both physically and mentally.  So I am not just writing this review because I have to, I am writing because I believe in this product and I know it will give me the feedback that I need.
This is my personal review of the Garmin Forerunner 35 which had the minimum that I wanted in a state of the art monitoring watch.  The only reason I wanted a watch like this was to track my heart during physical exertion.  I wanted to see how high my heartbeat got to during a steady run.  As a long time runner, it's always good to keep a check on how you recover after a run, not just during the run.
I am going to keep this a simple as possible and not include a comparison to other watches available.  There is a reason for this, I have always wanted a Garmin, it's that simple.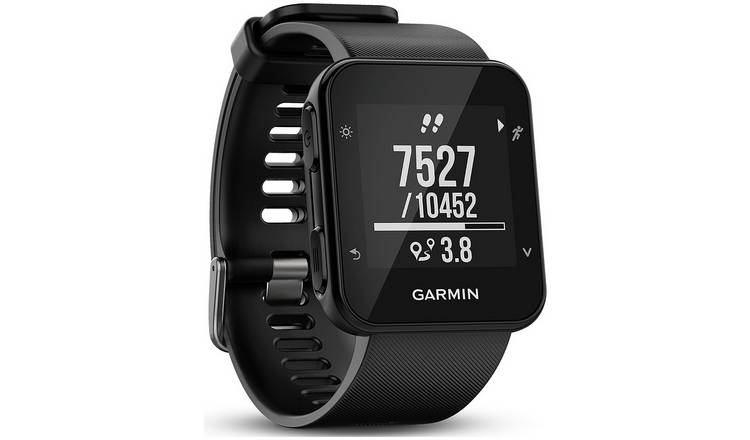 About This Product
Garmin Forerunner 35 is a lightweight and easy to use GPS activity watch with Garmin Elevate wrist based heart rate, giving you the option to run without a chest strap. It includes smart connectivity features such as smart notifications, automatic uploads to Garmin Connect, LiveTrack and music controls. Meet your fitness goals with help from various sports profiles, vibration alerts and useful features such as Auto Pause and run/walk mode. Built-in activity tracker counts your steps, calories, intensity minutes and monitors your sleep.
Wrist heart rate monitor measures heart rate all day and night. Connected features include smart notifications, automatic uploads to Garmin Connect, live tracking and music controls.
Sports profiles include indoor/outdoor running, cycling, cardio and features such as auto pause and run/walk activity mode. Activity tracker counts steps, calories, intensity minutes and monitors sleep.
Automatically uploads your data to Garmin Connect, a free online fitness community where you can join challenges, receive insights and share your progress as you meet your goals.
Connectivity:
Proprietary operating system.
Bluetooth 4 connection.
USB 2 connection.
Display information:
23.5 mm Memory-In-Pixel (MIP), screen.
Battery:
180 mAh battery capacity
Typical usage time of up to 9 days
Low usage time of up to 9 days
2 hour charge
Physical Specification:
Watch size H40.7, W35.5, D13.4 mm
Strap size L242, W22, T2 mm
Weight 37.3 g
Features:
Water resistant
Swimproof
Dust resistant
Scratch resistant
Read texts
Receive social network notifications
Displays weather
Heart rate monitor
Pedometer
Distance
Accelerometer
Global Positioning System (GPS)
Calorie Count
Sleep
Accessories included: Charging Cable, (including charger)
Manufacturer's 2 year guarantee
EAN: 753759161965
Sync Capability
Alarm Set
Reviews
Of the official 134 reviews on Amazon 97 gave the watch 5 stars and 31 gave it 4 stars.  There was a review with a one star rating but I could not find the review but at least I tried.
Garmin Connect is the app that goes with most Garmin models and it was a simple download to either laptop or smartphone, the obvious pro of the smartphone is you can strap it to your arm if you wish.
Garmin Connect™ is your one-stop source for health and fitness data. Whether you're training for a race or tracking steps, it provides the information and inspiration you need to beat yesterday.
Once paired with a compatible(1) Garmin device, activity tracking is just the beginning of what Garmin Connect™ can do for you. You can create new workouts, build courses and even challenge your friends to compete, all within the app.
Garmin Connect is packed with useful features, including the ability to:
– View today's health data in vivid detail on your personalized My Day page.
– Analyze your activities and their related statistics. (2)
– Create customized workouts and courses.
– Sync with other apps like MyFitnessPal and Strava.
– Review personal records for steps, distance and pace.
– Earn badges for accomplishments.
– See how you measure up to other Connect users with Insights.
– Get support for Garmin devices and their features.
Are you ready to join millions of users who walk, run, bike, hike and strive to beat yesterday? You can learn more about Garmin devices and how they work with the Garmin Connect app at Garmin.com.
All that said, I wear this watch for a specific purpose.
I know there are many more both expensive and inexpensive to choose from and I have had a Fitbit before but I found it cumbersome, not because of its size, but the strap make my wrist chafe.
Having this Garmin Forerunner 35 gives me access the Garmin community and lets me interact with similar minded athletes and share their challenges.  Good luck and thank you for reading.